How to get in and out of Gatwick Airport on a pushbike
I commute from Three Bridges, and with the abject failure of Southern/Govia/Thameslink to run a train service on most weekdays, I often find myself needing to cycle home from Gatwick. The first few times I did this, I struggled to find a good way to leave the airport except via main roads really not meant for bicycles. There is, however, a well hidden exit down onto a cycle path which leads out of the airport to Crawley in one direction, and Horley in the other.
When I say hidden, I really mean it. I failed to find the exit from inside the airport, and staff I asked at the station didn't know either. You can see the cycle path from the train, but once inside the maze of the airport, it's almost impossible to find out how to get there. I figured it would be easier the other way round - cycle down that cycle path and find the way in to the airport. It is easier, but not by much. I had to ask an airport worker on a smoke break as I had been up and down the path several times without finding the way in.
So anyway, here it is.
From afar:
And a close up (see if you can spot the national cycle route sign: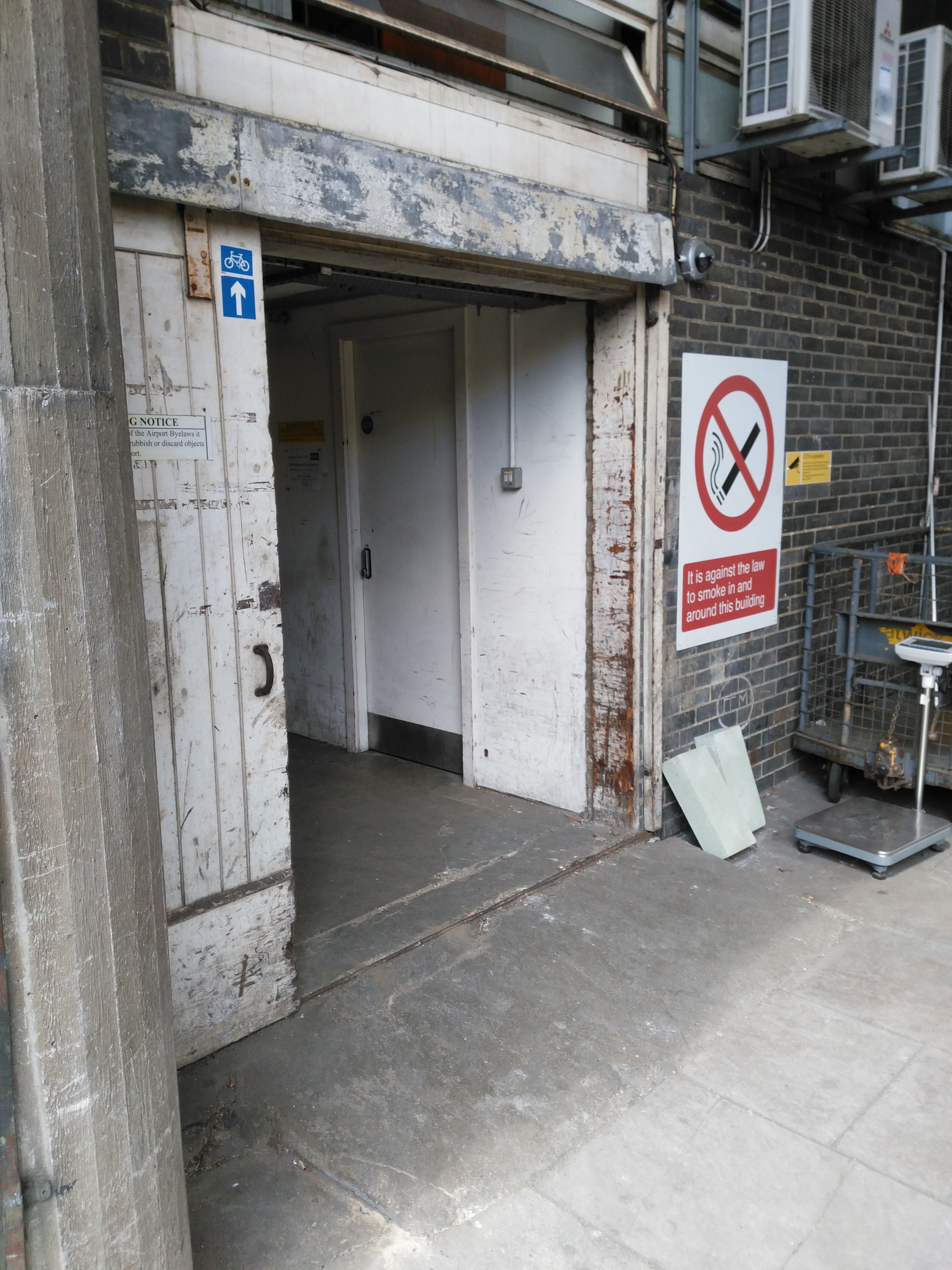 Yes, that's right, you enter the UK's second largest airport via bike in what looks like a very neglected and often filthy goods lift. The lift is an old fashioned one where you have to open and close both doors manually at the top and bottom. Please make sure you do this on your way out as well as your way in if you use the lift, or it will be stuck on one floor, and unusable for the next person.
And here's how to find it from inside the airport (South Terminal).
As you come out of the barriers at the train station, turn right and keep walking. You'll enter a larger area. Look to the left hand side (but without turning left). The lift is tucked away next to a baggage wrapping machine:
From afar:
And a close up:
To finish this post I have to salute the person or organisation who managed to get this access arranged. In a time when escalators talk to you to remind you to start walking at the end (which the ones coming up from Gatwick Airport train station do), to have a manually operated lift that was clearly not designed for public use made available with no fuss for use by cyclists needing to get in and out of the airport, and the feeling of knowing a secret entrance it gives is just a tiny bit awesome!